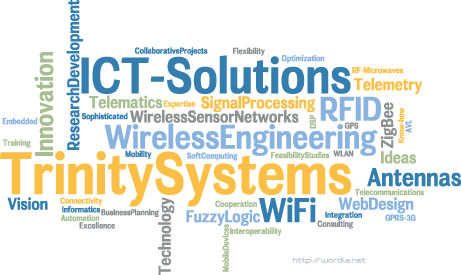 Trinity is an ICT company specializing in RFID (Radio-Frequency Identification) & wireless engineering. We provide highly-demanded solutions and business services for the enterprise sector.
RFID EveryTHING
Trinity RFID is creating value in extreme applications & transforming everyTHING into an interconnected IoT asset.
Trinity Systems is an SME company providing turnkey ICT solutions and system-integration services to the enterprise sector. It specializes in radio-frequency identification (RFID) technologies, developing applications for the Internet-of-Things (IoT) and participating in R&D projects in the field of wireless engineering. With advanced know-how in embedded electronics, sensors, RF design & applied signal-processing, Trinity also develops customized hardware or bespoke systems based on RFID technology.
Technology Know-how
Engineering skills & know-how
Problem Solving Skills
Solutions to unlimited applications
Turning Ideas » Products
Custom solutions that fit your needs !
Quality
High-quality products & solutions
Turn-key Solutions
End-to-end implementations (H/W & S/W)
Technical Support
Unparalleled support by qualified personnel
Radio-frequency identification made simple !

Find out more about UHF RFID technology, compliant to GS1 EPC Gen2 & ISO/IEC 18000-63.