RFID Outdoor Enclosure (weatherproof)
Our RFID outdoor unit is an IP-66 rated fiberglass-reinforced polyester enclosure, fully equipped with all accessories necessary for outdoor installations.
It has been field-tested in harsh environments and all possible weather conditions (i.e. winter/snow, summer/high-temperature climates), proving it's highly durable design and construction. This enclosure can efficiently protect your RFID equipment from natural elements in outdoor installations.
Upon request, we can provide you with a complete "RFID-in-a-box" system, including an industrial RFID reader & external antenna, ready for field installation (you only need your toolbox for assembly & mounting). Fully compatible with our embedded Linux software, the reader can be configured to send RFID data directly to your web-service or back-end IT infrastructure.
Features

Fiberglass reinforced polyester, ideal for long-lasting outdoor use
IP-66 ingress protection rating
IK-10 impact rating
UV & chemical resistant
Physical dimensions: 430 x 330 x 200 (mm)
Color: Grey (RAL 7032)
Modular/customizable design
Wall or mast installation
Custom RFID enclosures are available upon request
Accessories included

Utility power converter, 230VAC/24VDC power-supply
Utility power circuit breaker and LED indicator
Utility power outlet for local test or other equipment (optional)
35mm DIN-rail equipped with terminal blocks
Ethernet/PoE Surge Protection
Reader power cable / M12 4-pin A-coded
Reader Ethernet jumper patch-cord / RJ45-M12 D-coded
Reader GPIO cable / M12 8-pin A-coded
Antenna, GPIO & Power cable glands
Enclosure metal mounting kit for mast installations
Antenna metal mounting kit for single-antenna mast installations
Optional air-ducts for natural ventilation (IP-44 on the rear of the enclosure)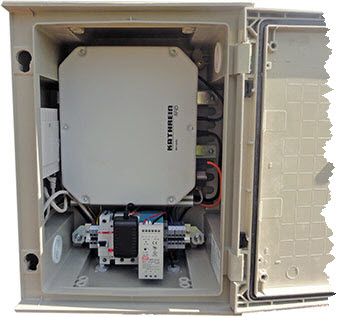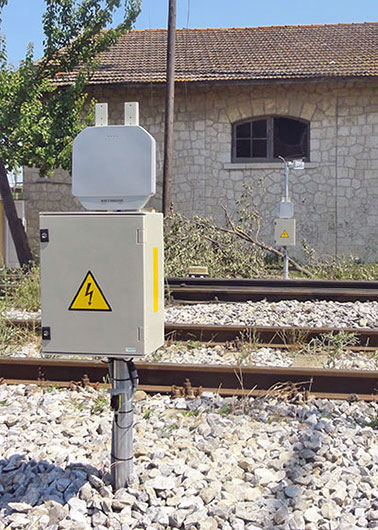 Optional Equipment (upon request)

Industrial motion – presence sensors
Communications unit (3G/ADSL router, WiFi CPE)
Industrial PC for local data processing
Battery backup power for critical applications
Solar powered autonomous RFID station
Power-supply lightning/surge protection
Full thermal management (forced ventilation, heating/cooling units)
Note: extra equipment or autonomous installations may require a larger enclosure or pillar.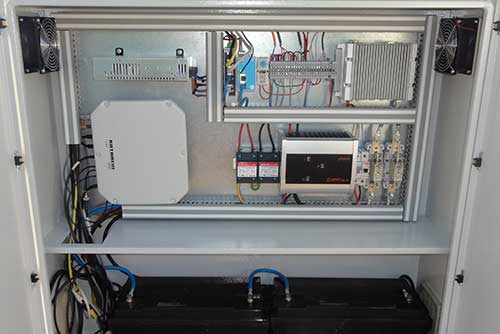 Send us your specifications for a tailor-made enclosure or all-in-one RFID box !