Waste Management
using the TWID-20 Sensor & Identification controller
The global increase in population and GDP, in addition to the constantly growing urbanism, has led to a surge in the municipal solid waste volume. At the same time environmental policies are getting stricter, awareness grows and management costs increase dramatically.
One of the most prominent areas for cost reduction is the optimization of the collection routes, which constitute 70-85% of the total disposal expenditure. Common practice follows empirically determined plans, disregarding the fill level of each bin, resulting in unnecessary transportation, waste of fuel, exhaust emissions and congestion.
How it works
The solution utilizes the TWID-20 | Sensor & Identification Controller on the hauler to provide data that enable end-users optimize the collection procedure and reduce operational costs, energy consumption and carbon footprint.
The controller incorporates a UHF RFID Reader which, with the addition of an external antenna, identifies the unique electronic tag of each bin. In addition, it analyzes data from the hydraulic hoist during collection and employs sophisticated algorithms to provide accurate weight estimation for every bin. The combined information (ID + weight) is conveyed to the on-board unit (OBU) for precise time & location stamping, and then forwarded to the end-user for assessment.
The solution allows for the accurate estimation of the waste collected from each bin, which combined with proper bin allocation, renders route planning optimization effective. Furthermore, the end-users acquire real-time visibility over the entire collection procedure, including position and history of his assets (trucks, bins).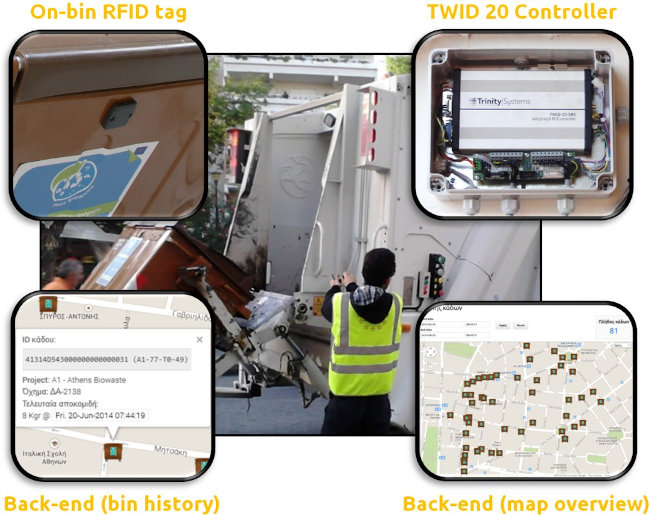 Features
Low cost of ownership – 10 times cheaper than trending on-bin solutions, without sacrificing accuracy.
Compatibility with every type of bin and vehicle superstructure.
On-site installation in minimum time, without heavy infrastructure and site requirements.
Minimum maintenance requirements.
Benefits
Operational cost reduction by at least 15%, based on scientific research literature.
ROI in less than 1 year, based on actual data from public procurement expenditures.
Visibility over the entire collection process (real-time monitoring, truck & bin tracking).
Efficient resource allocation and leverage of existing infrastructure.
Fostering of Smart Cities initiatives, public awareness and engagement.
Who can benefit
Municipalities/private companies who want to optimize their collection processes.
Fleet-management integrators, telematics providers and waste truck/bin manufacturers who want to add value to their products/services.
IoT partners who want to enhance their smart cities portfolio of solutions.
Case studies
The solution is successfully realized in 15 nationwide projects, consisting of 11 municipalities, 2 private companies and 2 European waste management projects.
The controller is installed on 150 haulers, identifying and weighing more than 30.000 waste bins.